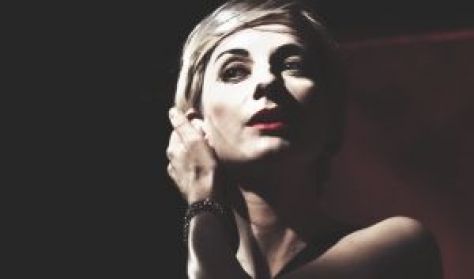 2
Tehorah
W programie: niemieckie, jidysz oraz żydowskie pieśni o miłości, nadziei i przebaczeniu
Brak aktywnych wydarzeń
Wydarzenie o tym tytule nie jest obecnie dostępne w sprzedaży internetowej.
Ostatni dostępny w sieci termin: Czwartek, 27 Styczeń 2022 18:30
ADRIENNE HAAN (NIEMCY) – śpiew
FILHARMONIA KAMERALNA IM. WITOLDA LUTOSŁAWSKIEGO W ŁOMŻY
MICHAEL ZUKERNIK (SZWAJCARIA) – dyrygent
W programie: niemieckie, jidysz oraz żydowskie pieśni o miłości, nadziei i przebaczeniu
CENY BILETÓW:
- bilet normalny 25 zł
- bilet specjalny normalny 10 zł - przysługuje uczniom i studentom do 25 roku życia (bilet ważny z dokumentem uprawniającym do zniżki)
- bilet ulgowy 20 zł - przysługuje emerytom, rencistom, posiadaczom odznaki "Zasłużony działacz kultury" oraz nauczycielom szkół muzycznych (bilet ważny z dokumentem uprawniającym do zniżki)
- bilet rodzinny: cena biletu dla osoby dorosłej – 20 zł, cena biletu dla dziecka – 10zł
- bilet dla posiadacza Karty Dużej Rodziny: cena biletu dla osoby dorosłej – 20 zł, cena biletu dla dziecka – 10 zł (bilet ważny z dokumentem uprawniającym do zniżki)

ADRIENNE HAAN
Hailed as "the First Lady of Cabaret" by Wolf Entertainment Guide in NYC and "an entertainer of the highest caliber" by the Huffington Post, award-winning European entertainer Adrienne Haan is one of the most electrifying concert and cabaret stars at work today. She is a graduate of the American Academy of Dramatic Arts in NY and also has a Master's Degree in Applied Linguistics from St. Mary's University in London.
A singer, writer and producer, she is constantly touring across the globe with a diverse repertoire that encompasses German 1920s and 30s Cabaret music, French Chanson, American Songbook, Broadway, and other international songs. Recent performances include concerts in the USA, Europe, Australia, China, Israel, Turkey as well as South America. Ms. Haan performs fluently in 11 languages which makes her unique in her field.
In 2015 she premiered her Holocaust Remembrance Concert in German, Yiddish and Hebrew - Tehorah - at New York's Carnegie Hall. Since then it has become her mission to partially dedicate her performing arts to the Holocaust Remembrance. She continues her purpose spreading the musical message of Tehorah as a sign of hope for peace among the nations.
www.adriennehaan.com

MICHAEL ZUKERNIK
Founder and music director of Philharmonisches Kammerorchester Berlin, Michael Zukernik has graduated Hochschule der Kuenste Berlin (the Higher School of Arts in Berlin) also made opera and symphony postgraduate conducting studies at the University for Music and Fine Arts in Vienna.
He worked as solo-timpanist in Barcelona Symphony Orchestra (Spain) and Auckland Philharmonia (New Zealand).
His conducting lessons with Jorma Panula took place in Finland, Sweden, Germany Russia, Croatia etc. Further more Michael Zukernik took part in Masterclasses with Colin Metters, Leif Segerstam, Otto Werner Mueller, Gennady Rozhdestvensky, Vladimir Ponkin, Gustav Meier, Janosh Fürst, Sir Colin Davis, Pierre Boulez.
In 2002 Michael Zukernik founded his own orchestra "Philharmonisches Kammerorchester Berlin" which performs regularly at Philharmonie Berlin and Konzerthaus Berlin and also acts as concert promoter in Germany. In the season 2009/2010 promoted about 25 concerts and 30 Musicals were held at Philharmonie Berlin, Konzerthaus Berlin, Berliner Dom, Gewandhaus zu Leipzig, Beethovenhalle Bonn, Leizhalle Hamburg, Dusseldorf, Hannover and others.
Michael Zukernik's repertoire contains compositions from the Baroque, to modern opera.
Michael Zukernik conducted the Orchestra Sinfonica di Roma, Staatskapelle Weimar, Sinfonieorchester Wuppertal, Beethoven Orchester Bonn, Nueremberger Symphony Orchestra, Goettingen Symphony Orchestra, State Academic Symphony Orchestra of the Russian Federation (Государственный Академический Симфонический Оркестр России), St. Petersburg State Academic Symphony Orchestra, Moscow Symphony Orchestra, Thüringen Philharmonie, Neue Philharmonie Westfalen, Berlin Sinfonietta (Chamber Orchestra of Konzerthaus Orchester Berlin), Südwestdeutsche Philharmonie, Czech Chamber Philharmonic Prague, Philharmonic Orchestra of KMV in Kislovodsk (Russia), etc. He was invited as a guest conductor with the Macao Orchestra, China, and made a tour in New Zealand with Auckland Philharmonia. In 2006 he went on tour to China where he conducted 10 concerts in the most important theaters as the Shanghai Opera House, Beijing Cultural Centre, etc. In 2010 he went on tour to South Korea with Philharmonisches Kammerorchester Berlin and he conducted 9 concerts.
He speaks fluently Russian, German, English, French, Hebrew and Spanish. In free time he likes playing golf and yoga. He is married and has two children.
Uwaga! Czas sesji koszyka wkrótce wygaśnie!
Czas sesji upłynął. Aby dokonać zakupu biletów należy je ponownie dodać do koszyka.
---